57 Porsche Speedster Replica Video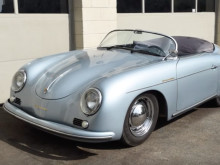 This lovely 57 Porsche Speedster Replica came to us from a large and highly regarded sports car dealer in the suburbs of Chicago.
They bought it in non-running condition and had taken the car to other "experts" in towards Chicago. After sitting in these shops for over a year with no repairs performed it came to Motor Works in DeKalb, Illinois.
With over 30 years of experience in air cooled engines Motor Works breathed new life into this beauty. Check out the video below!