1955 Hudson Hornet
Image Gallery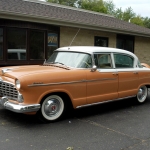 This 1955 Hudson Hornet had been everywhere as the customers tried to get it to run right. Motor works sorted out the dual point ignition, timing and carburetion and the engine became a "screamer" once again.
The Hornet accounted for more than 40 NASCAR wins between 1951 and 1955. This speedster was king of the track and the streets back home for many years.
More details will follow soon.