Our Most Ambitious Classic Car Project to Date!
A rare Triumph GT6 comes to us for restoration. FLASH! The complete story is now available as a free eBook download in our Classic Car Section.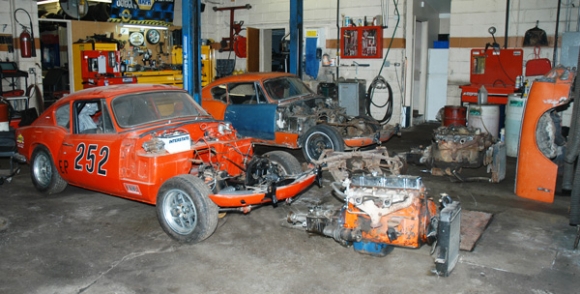 A rare Triumph GT6 comes to us for restoration (first gallery photo). It is so badly rusted the owner finds a track racer replacement in Missouri (car at bottom in photo). This car comes with a second parts car. Our job is to make one out of three using the track racer as a foundation.
The project will include heavy modification of the car so a larger performance built Triumph TR6 engine can be installed. Along with this is a heavy duty Ford 5 speed transmission conversion to handle the power. The differential is also rebuilt and strengthened.
By the time we finish, almost every mechanical part on the car will be modified, replaced or strengthened.
The second gallery photo shows that the chassis is overhauled, the differential, transmission and engine are rough fitted. The interior is painted to receive the new carpeting and panels coming from England. There is much more to come, but seeing the major progress excites both staff and customer. We will soon provide details and dozens of pictures in our Classic Car Section.