Marty presents Motor Works' MG & Triumph GT6 Restoration eBooks to the Chicagoland MG Club
The owner of Motor Works, Marty Fay, presents Motor Work's two eBooks, MG Repairs and Restorations and Triumph GT6 Restoration to a meeting of the Chicagoland MG Club.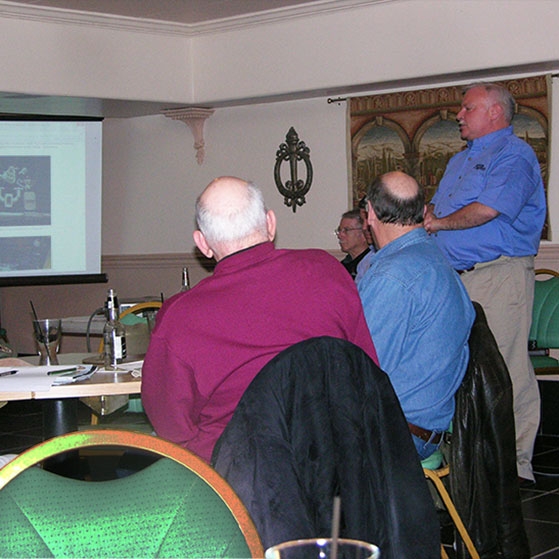 At a recent meeting of the Chicagoland MG Club, Marty Fay, the owner of Motor Works was asked to do a presentation on the shop's two new eBooks. The first eBook, entitled MG Repairs and Restorations, explores fourteen Classic British Cars through their unique road to recovery. Challenges like loss of oil pressure, seized engines and metal flakes in the oil are overcome on cars as diverse as an MGB, Triumph TR6 and a 1958 Bentley. Extensive discussions on carburetion, tuning, hot-rodding, and even top restoration are included. The MG eBook ends with a great winter storage procedure and photo gallery.
The second eBook, Motor Works' Triumph GT6 Restoration is an awesome read! The story of a ground up restoration unfolds with the tear down of three GT6's to eventually produce one scary fast, British Bullet. A Triumph TR6 2.5L engine with many high performance modifications replaces the original 2.0L motor. The weak factory four speed transmission is replaced with a European Ford five speed overdrive conversion. We install a rebuilt and strengthened differential. A stunning new British interior is fitted with many extras. The list continues on and on. Both eBooks are filled with humor, stunning photos, technical detail and creative engineering.
Response to the presentation was wonderfully warm, with many Club members asking questions both during and after the event. Both eBooks are available as free downloads in our Classic Car Section. Click on the Classic Car Tab in the Header and scroll down.