A Thanksgiving story of a truly deserving person and the assistance she receives from an unlikely source.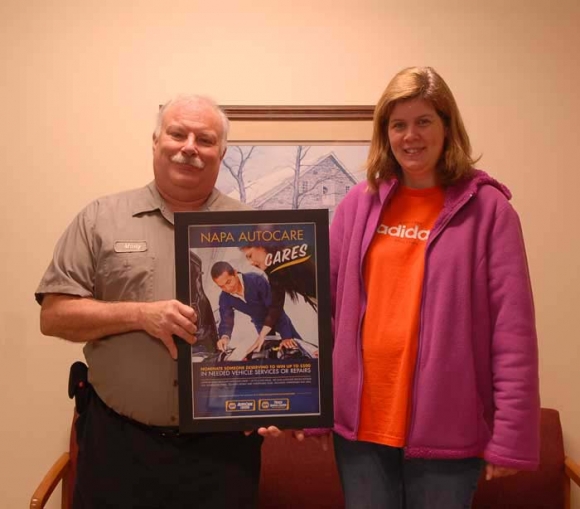 Thanksgiving Day fast approaches and this is a story worthy of the day's meaning. It starts, appropriately enough with Amy. Amy is a fighter, but even fighters need help sometimes. She is raising two children alone, going through a divorce to end an abusive relationship, and living at the Hope Haven rescue facility. To make matters infinitely worse, Amy recently suffered a stroke impairing her mobility and work skills.
The tale continues with ten local auto repair shops, the local NAPA Auto Parts Store and NAPA National. These businesses have joined under the banner of the DeKalb NAPA AutoCare Group to advance their industry and give back to the community which supports them. Motor Works is proud to be a member.
The AutoCare Group recently sponsored a contest. All ten shops collected nominations of deserving people and chose one candidate. These winners each received $500 worth of auto repairs at no charge. Amy was Motor Works' winner.
Amy thought she just needed ball joints, but once we began the job, other desperately needed repairs surfaced. Altogether, her Explorer would eventually receive over $780 in free repairs, plus a free alignment by AutoCare member Archer Alignment. Amy's safety was at stake. We could do no less.
Needless to say, Amy was moved beyond words. The thanks she gave us made our hearts glow. And therein lies the final important thought critical to this story. As Thanksgiving nears, we at Motor Works are thankful for the opportunity to help a truly deserving person. Amy is now part of the Motor Works family and the world is a little better place.
Thanks for reading our story.
Marty Fay
Motor Works
P.S. If you were moved by our story, please like us on Motor Works' Facebook Page, share it with your friends, and let us know what you think.