30,000 Mile Service
Your first major scheduled service occurs at two years or 30,000 miles after purchase.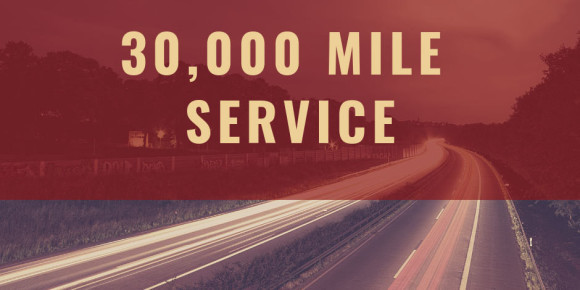 Service Since Day One
Hi, I'm Marty Fay, the owner of Motor Works. We began serving the DeKalb and Northern Illinois public in March, 1984. Since the first day our purpose was to be a one-stop-shop, offering every conceivable automotive amenity. A critical part of that commitment was and still is providing expert scheduled maintenance service. To that end we have three ASE Master Certified Specialists on staff.
Why Scheduled Maintenance?
Viewpoints on scheduled maintenance vary from "aw forget it" to "OMG, I'm three miles past my required 30,000 mile service interval!" Here's mine: I recently saw a TV drama where victims with specific skills were systematically poisoned. An antidote was supplied daily as long as the victim did the villain's bidding. Should the poor dupe refuse to cooperate, the antidote was withheld with the result being "instant toast!"
Vehicle service is much the same way. In short, ignore the maintenance schedule (antidote) and your investment is "toast" at 80,000 miles. YIKES!
The 30,000 Mile Service: Your First Major Antidote
At two years or 30,000 miles after purchase, the first major scheduled maintenance service is required. As far as major services go, this one is pretty light and inexpensive. Following is a listing of the 30,000 mile service for a 2012 Honda Accord. It is typical of most cars.
Important note: There are two levels of scheduled maintenance service; Normal and Severe. Driving in Illinois with its heat, cold, snow, salt, potholes, and city stop and go driving, instantly qualifies a vehicle for the Severe Service Schedule. It is that schedule which follows.
Replace:
-Air filter
-Cabin filter
-Engine oil and filter
Rotate tires
Inspect:
-Brake hoses/lines
-Brakes and traction controls
-Constant velocity joint boots
-Drive belts
-Exhaust system
-Fluids
-Fuel supply line
-Parking brake system
-Steering and suspension
Motor Works Is Careful, Efficient, And Keeps Costs Down
Come see us for all of your scheduled maintenance, whether it's the first at 5,000 miles or the last at 300,000 miles. We excel at service work.
NOT! - It Has To Go Back To The Dealer For Service To Maintain The Warranty - NOT!
Don't let the dealer tell you your car must be serviced there to maintain the warranty. THIS IS NOT TRUE! According to the Federal Magnuson–Moss Warranty Act your vehicle can be serviced by any reputable shop and the warranty will be maintained. Just keep your service records should they ask for them. If you don't have the records, Motor Works will have copies of all your service records on file should you want them.
Schedule Today!
Customer satisfaction is our top priority. To all the folks in DeKalb and Northern Illinois, we hope you'll let us prove it. If you would like to schedule an appointment, you can do so online or call us at (815) 756-2882 to speak to our friendly staff.
Cool Stuff
For more detail, animated illustrations and movies on Cabin Air Filters, Engine Air Filters, Oil Changes, and Tire Rotation And Balancing, please click on the following colored NAPA Service Assistant Link, then click on the appropriate heading under Preventive Maintenance.
NAPA Service Assistant