1990 Citroen 2CV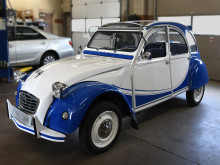 Motor Works was recently graced with a visit from a 1990 Citroen 2CV.
Now the question on many folk's minds might well be, "whadzat?" Is it an imported wine or a foreign film with subtitles? Nope! It's a quirky little French car with a two cylinder air cooled engine, long travel suspension, roll-up canvas top, folding windows and load adjustable headlights whose position is controlled by a turning a knob attached to a mechanical linkage under the dash. Oh, it's also got a hand crank for starting the engine in case the battery goes flat or the starter fails. And it is adorably cute. Honest, I am not making this up.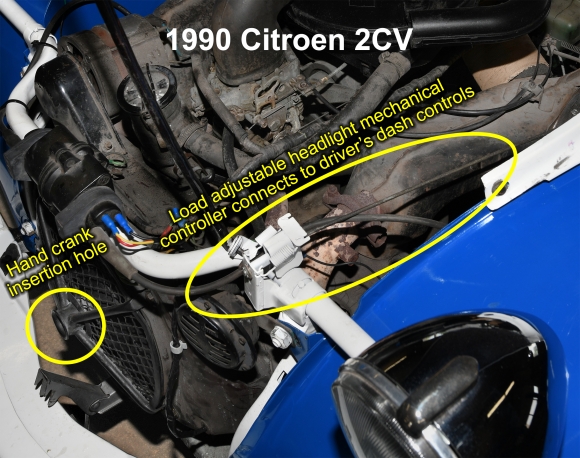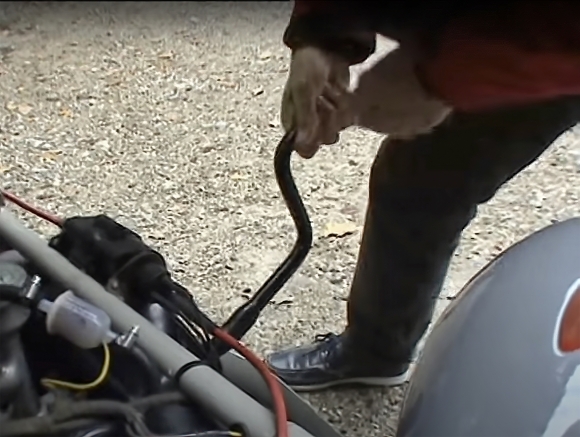 Here is a still from a neato shorty video on YouTube of a 1959 Citroen 2CV being started with a hand crank—Our 1990 2CV has this ability. The video (shown at bottom of page) also shows the 2CV being driven and the long travel suspension soaking up the bumps. Interesting are the early mechanically driven windshield wipers.
Citroen 2CV History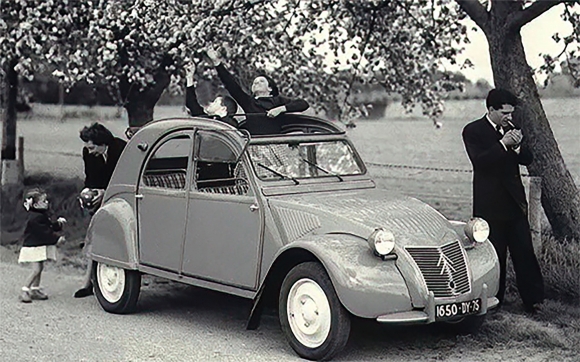 Since we are starting to discuss the 2CV history, let me give you a little more background on this car that seems to be stuck in a time warp. Then we can get to the TLC Motor Works lavished on our visiting 1990 2CV.
The Citroen 2CV was designed in France in the 1930's as a utilitarian people hauler much as the VW Beetle was in Germany. World War II delayed production of the 2CV until 1948, but between 1948 and 1990 the Citroen 2CV and its variants sold almost 9 million vehicles.
The plucky little car was delivered to the public in 1949 with a 375 cc, 9 hp air cooled engine. Top speed was 40 mph. It had only one tail light and windscreen wiper was powered by a mechanical shaft drive; the wiper speed was dependent on the driving speed.
A 1953 technical review in Autocar described "the extraordinary ingenuity of this design, which is undoubtedly the most original since the Model T Ford". In 2011, The Globe and Mail called it a "car like no other". The motoring writer L. J. K. Setright described the 2CV as "the most intelligent application of minimalism ever to succeed as a car", and a car of "remorseless rationality".
In relation to the 2CV's performance and acceleration, it was joked that it went "from 0–60 km/h (40 mph) in one day. Claimed time for acceleration from 0 to 40 mph: "42.4 seconds." One American motoring journalist quipped, "Does it come with a can opener?
1990 2CV Performance
Coming back to our 1990 2CV, indeed performance specs have improved.
This car has a 602 cc two cylinder air cooled engine which produces 29 hp.
Maximum speed is 115 km/h (71 mph), but be careful going uphill against the wind!
0 to 100 km/h (62 mph) takes 35 seconds. Yawn… Wake me when it's over.
While this is an improvement over its predecessor, I still wouldn't race any garden tractors driven by a kid wearing a Mario Andretti cap.
Just for comparison purposes, let's look at a basic people hauler from 1990, a Honda Civic DX 4-door sedan with a 5-speed manual transmission.
Power is supplied by 1.5 liter four cylinder engine sporting 92 hp.
Maximum speed (calculated) is 109 mph.
0 to 100 km/h (62 mph) takes 12.4 seconds.
Ok, I have to admit, from a performance standpoint the Civic is the clear winner. Our little dinosaur just can't compete when it comes to a horsepower race. But, one can't ignore the overpowering cute factor of the Citroen 2CV.
1990 Citroen 2CV, inspection, service, repairs and plenty of TLC from Motor Works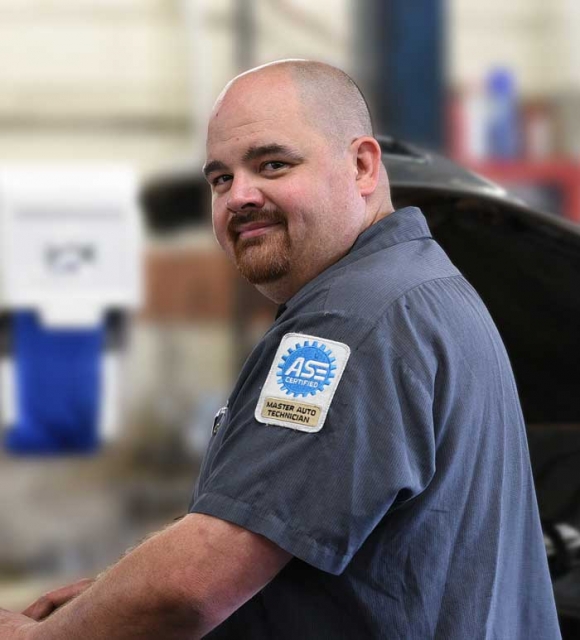 This blue and white cutie was towed to Motor Works from Wisconsin as a no start. The customer also mentioned the turn signals did not work, nor did the speedometer, when running the car had a hard hot restart, and it needed a thorough look over and servicing.
Mark Huff, our classic car guru met with the customer and made notes on the particulars. Mark would see the job through from the initial meeting, to the inspection, diagnosis, repairs, paperwork and a final wave goodbye as a very satisfied customer headed back to Wisconsin.
During the course of the job, Mark would stay in touch with the customer by both phone and text. Texting and email allows us to send discussions, written estimates, and photos of problem areas to any client's phone. Our customers rave about the ease, understanding and confidence this process adds to getting a vehicle repaired.
Getting it started was job one. Mark performed diagnostics on the 2CV and located loose and corroded connections at the ignition coil. Repairs were performed and the little car jumped to life and started to purr.
A complete inspection and the original list of concerns
With the car now running, it was time to get a look at the big picture. We performed a thorough general inspection including steering, suspension, exhaust, chassis, underhood, and much more. Notes were made and photos taken of problem areas. After informing the customer about the inspection, Mark began working on the original list of concerns.
The engine oil and filter were changed.
Engine compression was taken to determine the motor's overall condition. At 130 psi for both cylinders, compression was right to spec.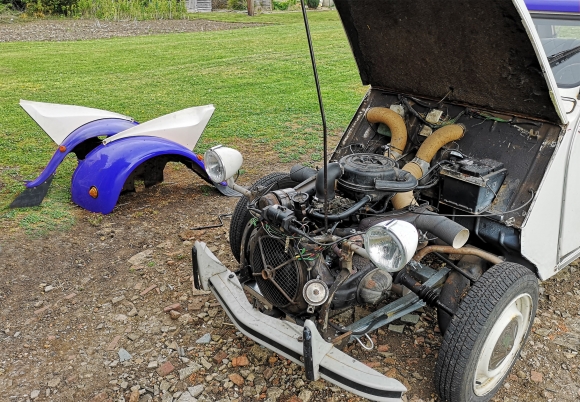 The engine valves were adjusted. This normally straightforward process becomes an oddity on a Citroen 2CV as both front fenders need to be removed to gain access to the valves. On most cars removing the front fenders is a multi hour job with small rusted bolts causing large scrapes on one's knuckles. Not so, on the Citroen 2CV. Each fender has 4 easily accessible bolts and the fenders come off in minutes.
The spark plugs were replaced.
The transmission gear oil was drained and replaced.
After a brief inspection, the turn signal problem was determined to be a failed flasher unit. Once the flasher was replaced, the car again could wink at oncoming traffic with the best of them.
The inoperative speedometer was not as simple as the flasher repair, nor was it expected to be. Mark removed the instrument cluster to find the speedometer cable was not attached to the speedometer head in the cluster. He reattached the cable to the speedometer head and powered it with an electric drill for testing. The speedometer head promptly screeched and screamed while the needle bounced all over the place. This speedo head was failing big. Rebuilding or replacement was going to be required.
Considerable research went into the hard hot restart problem. The parts suppliers and forums indicated fuel octane was critical in preventing fuel foaming and vapor lock. Especially with an air cooled engine. All agreed the 2CV should not run on any gas below 91 octane.
Lastly, the hood latch spring had weakened considerably over time. The hood did not feel securely latched when closed and we thought it might fly open due to air lift when driving. The spring was not available alone. One had to buy the entire hood latch. Yuck! A trip to the hardware store found a much stronger version of the weakened spring. Once installed, the hood latched securely and we had an elegant repair at a fraction of the cost of the Citroen part if we could even get the part.
Road test and customer pickup
Our final road test of the Citroen 2CV was a whimsical, low speed blast. With all the sunlight and the long travel suspension, it is slightly akin to running down the road in a goldfish bowl cradled on a soft mattress.
You should see the looks Mark got from the amused public. Heads turned everywhere he went.
With quality control complete, Mark called the customer telling him the car was done and ready for pickup. It is always a warm fuzzy feeling to have a gleefully satisfied customer drive off towards home in one of our classic car repair and restoration projects. The smile and appreciation our clients show just warms us to our toes.
But you know, we feel a slight sadness at Motor Works when a classic leaves us. Our classics, each one unique, greet us each morning when we enter the shop. They reflect the depths of the craftsmanship and TLC we lavish on them. When they leave with their owners it is a little like seeing one's son or daughter head off to college. There is a pride in the leaving but a slight sadness in not seeing them every day.
The one thing that is a near certainty, like kids off at college, our classics do return every now and then for more TLC from Motor Works' skilled staff. And they smile at us each day they stay.
Citroen 2CV Video