Mark Huff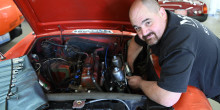 Mark's title is Director of Motor Works Classic Car Restoration Division. While this is impressive it doesn't begin to say enough. Not only does Mark work on our oldest vehicles, he also works on today's newest vehicles programming their many onboard computers. In addition, he is our lead wheel alignment technician. Can we say "Mr. Versatility?" Whew! I'm out of breath.
As of this writing, Mark Huff has been with Motor Works for 19 years. As compatriots and friends, the two of us have shared hard times and good times, seen cherished members of the shop family come and go. And perhaps hardest of all, watched beloved customers pass on. Believe me, tears have been shed.
Mark has been my rock through all this. His loyalty, dedication, and technical skills have been critical in growing Motor Works to what it is today.
At this point a brief story is in order.
Mark came to Motor Works after working five years at Farm and Fleet.
His basics were solid but his experience on classic cars was light. I was the classic car tech back then and recognizing Mark's interest and resourcefulness, started to teach him the arcane art of working on "old iron".
This includes point style ignition systems, multiple side draft carburetors, archaic suspension systems, early European fuel injection and a host more. The body of unique knowledge is huge.
Mark learned quickly, and he was soon able to think outside the box; bending, twisting, and modifying principles to meet new challenges.
As these things naturally come to pass, the student would eventually surpass the master. I was relieved to have Motor Works Classic Car Division in such capable hands, as I needed to attend to the management needs of a growing shop. But I remain wistful when I see Mark making a tired old engine "sing" again. Man, is that a riot!
Education
Graduating from Kiswaukee College with an Associate's Degree in Automotive Technology, Mark has hundreds of hours of continuing automotive technology training.
Awards and special recognition:
Director of Motor Works Classic Car Restoration Division
ASE Master Certified Technician
NAPA/ASE Technician of the Year Chicago Division Award Winner
Hunter Wheel Alignment School
KEC Advisory Board member
Personal Interests
Doting on his wife and two young sons, restoration of antique cars and tractors, radio controlled car racing, and assisting his father with the family farm fill Mark's free time.